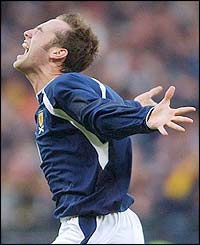 That's right, I do. James McFadden, that is.
Seriously, the guy is the biggest no-show for Everton ever. But when he pulls on that Scotland football shirt...the man is the Superman of football. There, I said it. There's mild mannered James McFadden of Everton, and he pulls on the cape and boots of Scotland...he becomes McGod of the Beautiful Game.
So yes, I went to the Scotland - Ukraine match yesterday. And I honestly have to say, it was the best game of football I've ever been to. The noise that Hampden made was...well, it was astonishing. And it's for a very important reason. Belief. Hope be damned, we don't need it any more. We need belief, and it's evident that we've got it. And the players picked up on it to; from the moment the fans belted out Flower of Scotland at the top of their voices, I knew it was going to be a special game. I did my very best to capture the noise, but you really had to be there to feel it:
The first goal came within four minutes of the last verse of the anthem, with Kenny Miller sliding home a beautifully weighted free-kick from McGod himself. Then, six minutes later, Barry Ferguson takes a quick free-kick, McFadden's there to tap it on to Lee McCulloch, who slots it past the Ukraine keeper with surgical precision! The Ukrainians hit back in the 24th minute, with Shevchenko slamming home - though I'm loathed to admit it - a wonderful cross. The game then quieted down for the remainder of the first half.
The second half was tainted by a series of poor refereeing decisions - both ways, including 3 strong penalty calls for us, and at least two of our fouls on their midfielders ignored - but in the 68th minute, magic happened. McGod finds himself in wide open space, and simply turns and drills the ball home with stunning accuracy. The crowd erupts, and the game is finished.
It really is a joy to see
one
of our teams performing at the very highest level, considering the lacklustre showing of the rugby team in the world cup. We've only got Georgia and Italy left now, with the former away, and the latter in Hampden. Ideally, we'll win both; but realistically, I only really want us to beat Georgia, and then draw with Italy. Then, brilliantly, we'll have knocked out either the world champions Italy, or the European champions France. Which, considering we're a country of a population of less than London, is no small feat.
Okay, that's my piss-poor sports reporting done for the week. Well, at least until wednesday, when I shall be hunting down a pub to watch the Georgia game.
I saw The Kingdom, and diligently wrote a review; and to be honest, I'm far prouder of this one than I am of the 3:10 to Yuma one. Mainly because it's the first not-that-great movie that I've seen for a while, and I got to lay into it a bit. Hope you enjoy it!
And that's it for now. If I don't get back, it means I've been crushed by a runaway semi manned by the Incredible Hulk. Either that or Tiscali have still failed to deliver my internet; though I'll leave that choice up to you!